The perennial garden decided to burst with patriotic color just in time for Independence Day! It looks gorgeous right now, with the most eye-catching blooms being the bright red lilies that just exploded like a firecrackers this week . They are one of the oldest plants I have, as they were transplanted from my grandma's garden somewhere around eight years ago. They have done really well, and have bloomed prolifically every year, and grown thick enough I have had to divide them more than once.
The shasta daisies have also been very faithful bloomers, and there are short plants next to the lilies that are older, and the tall ones I just planted last year for some hight in the garden.
In the pot at the middle of the garden  is a red geranium which belongs to Daniel. I let him pick it out at the store by himself, and he calls it his 'rose' because he is not able to say geranium. (So cute!) He helps me water it, and likes to see it in bloom, though he does't like to see the buds die when they are done flowering.
Harder to see is a blue salvia plant under the tall daisies, a new addition to the garden this year. It has been blooming for over a month straight!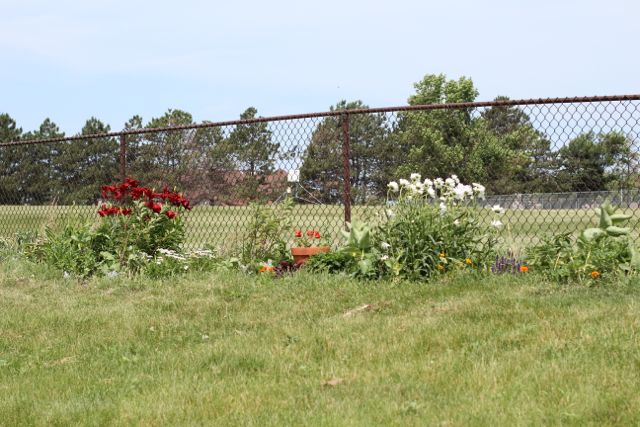 Happy Fourth of July!