I live in the largest city in my state, but small slices of nature are never far away. A variety of parks nestle through the city, providing many places for a brief retreat from urban life. Though not too far-there is always the noise of a busy highway humming in the background. But the birds and insects don't seem to mind.

 The hilly area slopes towards the river, giving one of the highest views in the area. 
I never know what will be waiting for me when I pull off the busy road. Damsel flies bustle about their daily business, snakes make their way to the warm cement paths to warm in the sunbeams, and I have even seen an oriole gathering materials for a nest.  Oblivious, the cars pass by on the winding highway. Even the people passing by on the trails don't seem to see.I must be easily amused, since I find myself easily drawn into contemplation of a rock full of lichen-who knows how old? Or fascinated by a birdsong as the wild South Dakota wind whips the grass.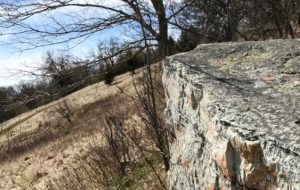 The weather just warm enough now to leave bulky coats behind, and the landscape is still mostly a lackluster brown, but a closer look showed the scenery coming to life all around. I stopped to walk around this local park built on the remains of a pink quartzite quarry. The city is now working to restore the natural grassy plains and wildflowers, though a nearby historical marker pays tribute to the days when workers pushed the large stone blocks onto the train tracks to ship, as well as those who died in the days of those treacherous working conditions.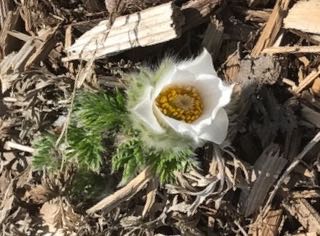 Featured plantings of pasque flowers were blooming there amidst the dried grasses of last summer. They are a local prairie wildflower, though more commonly found on the Western side of the state. The purple pasque is also the state flower, and I'd never seen one in person before, so it was a pleasant surprise. They were small, subtle glimpses of beauty as they peered from their brown surroundings.