I've always known my little brother Dominic was the most adorable baby ever, and now the fact has been verified by the largest newspaper in the city. Not every baby has his picture in the paper for Ash Wednesday two years in a row!
I was standing in the back of the church before mass, holding Dominic in my arms. We had to be there a half hour before mass began since Johnathan and Landon were altar servers. So, Mom sent me to the back to entertain the baby till mass began. While I was back there, I became aware of a woman pointing a very large camera in my direction and clicking away. I shot her a sideways glance, then I took a few steps forward, bouncing Dominic up and down in my arms. The camera followed me. I took a few steps forward. The camera moved with me. Shortly, the photographer approached me and asked for both of our names.
Here's the picture that appeared in the paper this morning, taken just after Dominic and I received our ashes: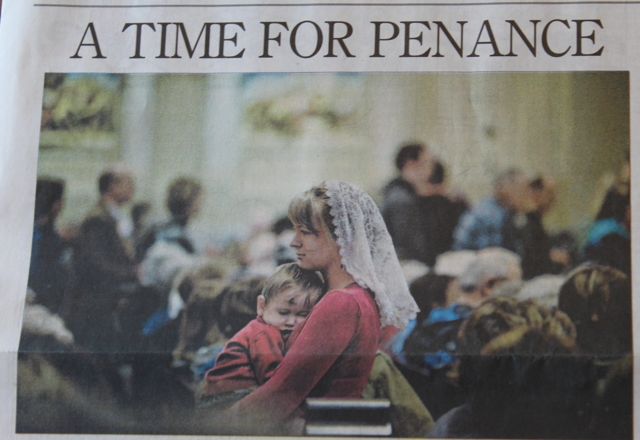 Now for the funny part: the caption under the picture reads: "Sarah carries son Dominic, 22 months, back to their seat Wednesday during the Lent Mass at St. Joseph's Cathedral."
Ha-ha-ha-haha!
The same newspaper published this picture last year: