And Other Movies for Homeschoolers and Large Families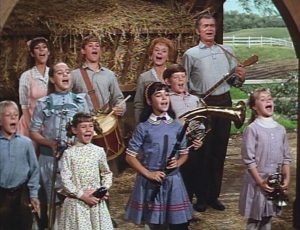 Homeschool family life is unique, and most 'family' movies don't come close to capturing the complex dynamics inside the walls of a homeschool home. However, movies that feature families with unusual hobbies, a wide age span between children, or a large number of children can come close. We set very high standards when ushering new movies into our personal hall of fame, and several qualities must be present to make the mark:
Use honesty in showing the chaos that comes with the size of the family without exaggeration. The remake of Cheaper by the Dozen is an example of everything a large family isn't 
Demonstrate the strength of the bonds formed in large families
portrays the challenges in a large family without destroying the charms that come in return
My sister Maria wanted me to watch this little known Disney musical for a year and a half (it's one of her all-time favorite movies).  The plot was interesting – each family plays an instrument and together forms a band. They are set on performing at a high profile political convention, but must maintain civility while between family members belonging to opposite parties, creating a very unpredictable storyline. (Well, except for the classic young love story that enfolds. That was delightfully predictable.)
The movie was respectful to viewers of all political leanings, and an age appropriate introduction to respect and good sportsmanship. It  also was an introduction to the workings of the electoral college, (and the difference between delegate votes and the popular vote).
 This movie scored a lot of bonus points with my family since it has a entire song devoted to our home state. (What? South Dakota in the spotlight? This never happens.) Like most Disney productions, is not entirely historically accurate. It actually sparked an interest in the not well known presidencies of Grover Cleveland and Benjamin Harrison. The production was innocent and appropriate for any age group, though it didn't hold the attention of the youngest members of the family.
More Large Family and Homeschool Movies
our other favorite large family movies include
The Waltons (Early seasons)
Cheaper By the Dozen (1950 version, the new one is terrible)
Sound of Music (Classic large family movie)
Seven Brides for Seven Brothers (seven homesteading brothers)
Soul Surfer (homeschooled main character, strong faith message)
Nim's Island (homeschooled main character)
Any other movies of particular interest to large families or homeschoolers?