Last weekend, there was a peach festival in town.  Or rather, a very long line of vendors calling themselves a peach festival. It sounded interesting, so my Mom took all of kids and me to see what it was like. There were bouncy castles, snow cones, brand name washcloths and baby clothes-seemingly everything but peaches.  It was rather a disappointment, but fortunately, right before we left, we found one booth selling peaches. We brought home two bags, and they were going to get moldy fast, so Maria helped me cut them up to make a peach crisp.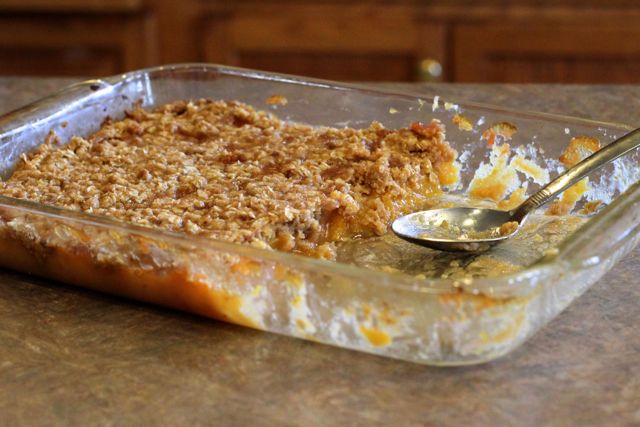 Middle:
10 cups of peaches, peeled and chopped
1/2 cup brown sugar
1/4 cup white sugar
2 tablespoons lemon juice
2 tablespoons flour
2 tablespoons corn starch
Combine all ingredients and pour into the largest baking pan available.
Topping
2 cups oats
1 cup flour
1 cup brown sugar
2 sticks of butter
Combine 1st three ingredients, then cut in butter.
It was delicious, and Dominic approved.